TWT Stake – Decentralized Community Staking Pools for TWT Token
TWT Stake is introducing a new way to stake your TWT token with their decentralized community pools. 
The project combines different plans and incentivizes users through an affiliate program. TWT Stake offers a unique solution that allows anyone to participate in the crypto staking trend and earn additional TWT Tokens by using their decentralied staking solutions. 
A New Way to Approach the Crypto Staking Trend
TWT Stake founders launched this project to solve the problem of low returns in crypto staking with several new ideas. The platform uses advanced algorithms to optimize rewards. It provides users with attractive staking rewards when they stake their TWT tokens on Trust Wallet or other Web3 wallets.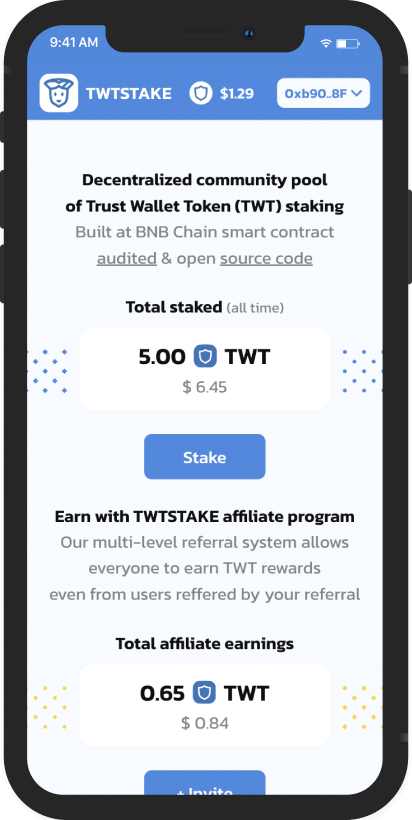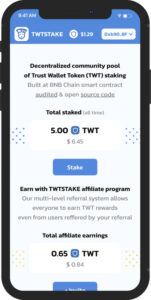 Blockchain's decentralized nature ensures a secure and transparent staking process, while Trust Wallet integration provides users with a user-friendly interface.
TWT Stake intends to promote wider token adoption and contribute to the growth and development of the staking communities. The project will lead to higher demand and value for TWT tokens by providing a user-friendly platform for staking.
TWT Stake – Different Staking Plans for All TWT Holders
TWT Stake provides a variety of staking plans to meet the needs of all cryptocurrency enthusiasts. Users can choose from four different staking periods, with an annual percentage rate (APR) fixed throughout the period.
The 40-day duration staking plan offers a daily return on investment (ROI) of 3%, with total earnings of 120%. For a 64-day staking period, users can expect a daily ROI of 2.6%, with total earnings of 166.4%. The 128-day duration plan offers an ROI of 1.6% per day and a total return of 204.8%.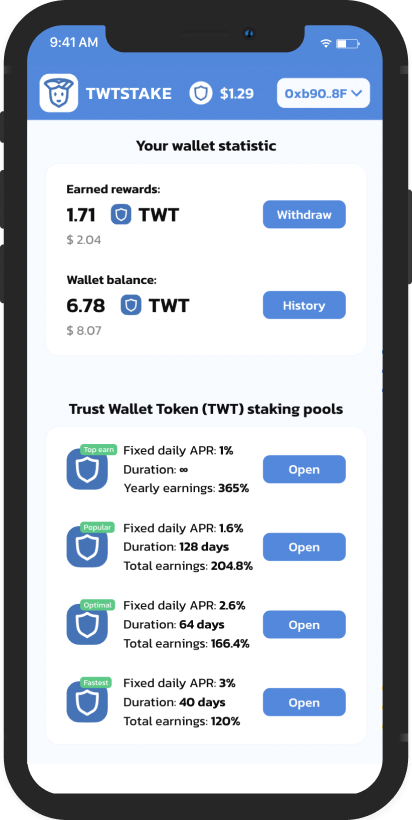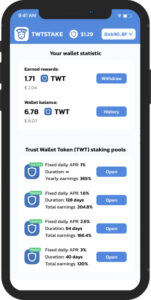 Finally, the team designed a separate staking plan for those who want to stake indefinitely. The infinite duration option offers a daily ROI of 1% and total earnings of 365% per year.
Combining these staking options gives users the flexibility to choose the best plan that suits their needs and preferences. By choosing TWT Stake, users can access a secure, easy-to-use platform with attractive staking rewards.
About TWT Stake
Watch Youtube Tutorial: Earn TWT Tokens with TWT Stake: The Ultimate Earning Platform
TWT Stake is a decentralized platform developed on BNB Chain, which enables users to stake their TWT tokens securely and conveniently. The platform provides users with an easy-to-use interface that allows both beginner and experienced users to easily stake their tokens.
In addition to staking, TWT Stake allows users to participate in airdrops of TWT tokens. This allows users to increase their TWT holdings and use their staked tokens.
The project's affiliate program further builds on the platform's mission to provide users with comprehensive services and incentives. Through the affiliate program, users can earn commissions by inviting new users to join TWT Stake. 
The multi-level referral system allows those who invite users to also receive rewards from their referrals' invites. This creates a network of referrals that has the potential to generate significant rewards.
In order to join TWT Stake's Affiliate Program, users must have at least one deposit at TWT Stake. TWT Stake's website and the social media pages below provide more detailed information about the program and its features.